RENTALS IN WICKFORD AND CHARLESTOWN ARE OPEN NOW!
Wickford Rentals are available daily throughout the summer. Charlestown Rentals are open on the weekends and will be weather-dependent on the weekdays until the end of June. 
RENTALS ARE RESERVATION ONLY
We offer on-site only rentals throughout the summer at our waterfront locations in Wickford and Charlestown. Paddle through picturesque Wickford Harbor and head to Rabbit Island for lunch and a swim, or explore the sandbars and flats of Ninigret Pond in Charlestown. Perfect for paddlers of all abilities!
Rentals are by reservation only, no walk-ins allowed. 
You must launch from our rental locations, we do not allow you to take the kayaks or boards in your vehicle to somewhere else.
Children under 18 years of age must be accompanied by a parent or guardian.
Please arrive no more than 10 minutes before your specified time.
We are currently only offering 2-hour and 4-hour rentals for Wickford on our website. Charlestown has 2-hour, 4-hour and full day rentals bookable online.
How do I book?
Our rentals are by reservation only again. They can be booked on our website or by calling us. The time slots close for online booking 1 hour before they begin, so if you see   we have to take the reservation by phone.
What's included?
All of our rentals include the kayak or SUP, paddle, and life jacket. We also provide some quick basic instruction if you have never paddled before.
What do I bring?
We recommend leaving as many of your belongings in the car as possible. We are not currently providing drybags due to the pandemic, however you can purchase one from our store. 
What if it rains?
Paddling is a watersport! But really, if there are high winds or thunderstorms we will cancel rentals and provide a full refund. If you'd rather not paddle in the rain we can either rebook you to a different day or send you a gift card you can use to come back a different day.
What if I can't make my reservation?
We have a 24-hour cancellation policy, so in order to get a full refund, you must call us 24 hours in advance. If you call us a few hours before your reservation, we can only offer you a gift card or offer to rebook you to another day. We understand last-minute emergencies happen, so please just give us a call and we can work something out for you. 
Where do I go?
Wickford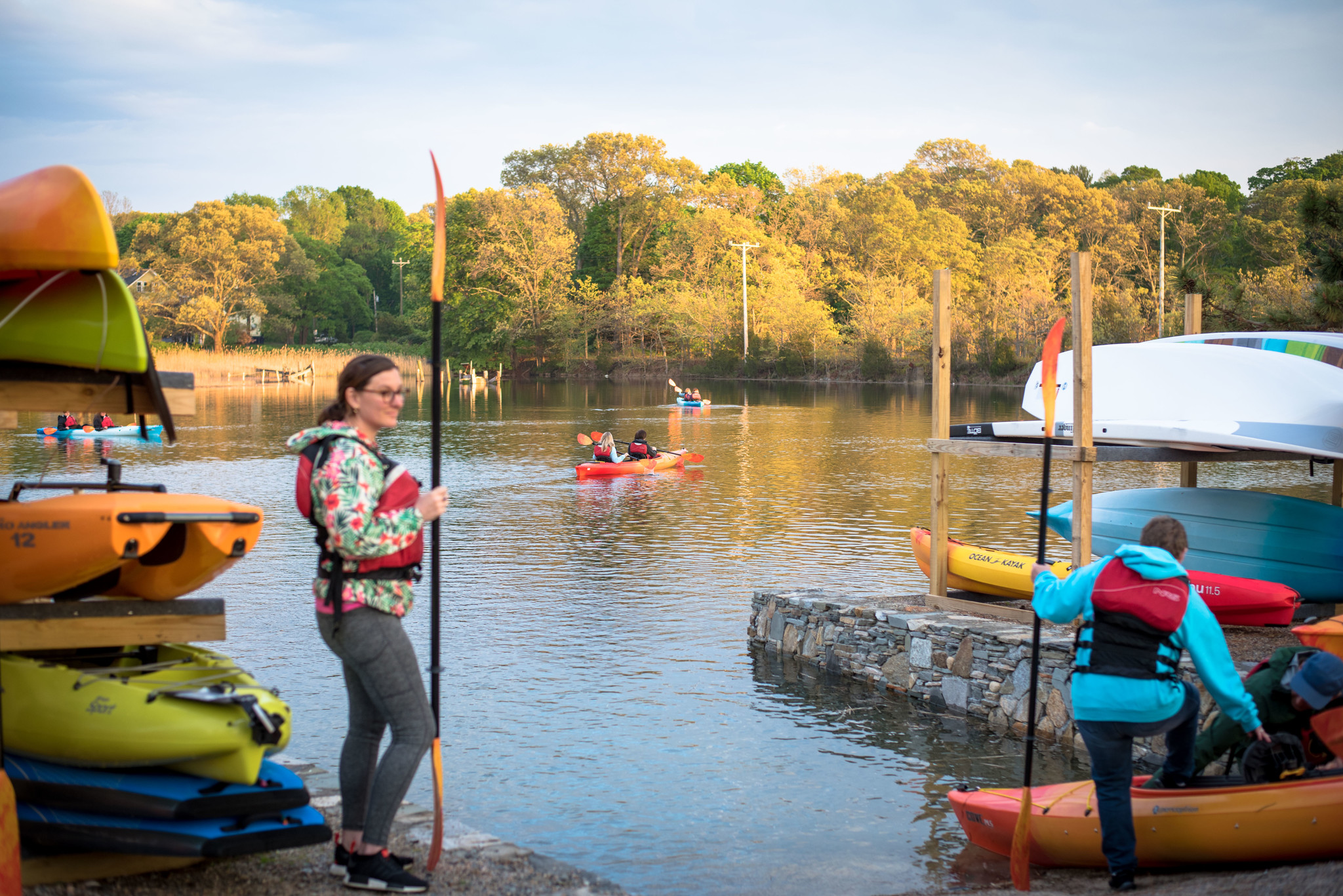 At our Wickford location we do not have any parking at our rental location (10 Phillips Street), so we ask that you park either in our main lot near the store or anywhere on the street (no time limit). After you parked you can head directly to our rental location (10 Phillips Street) to check in and get geared up, there is no need to check in at the store.
Charlestown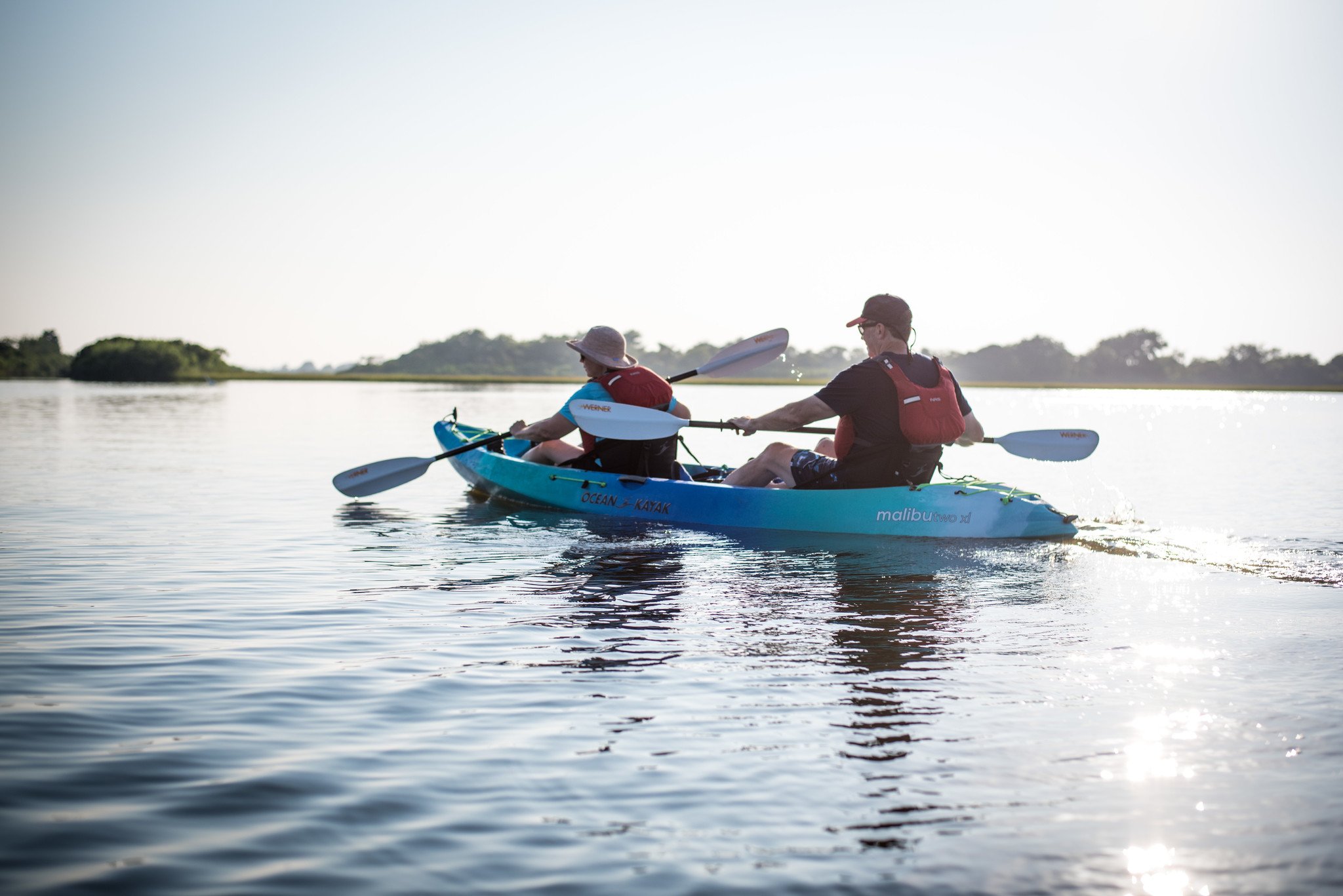 Our Charlestown location will be open weekends only for the first few weeks.
If there is an attendant on duty when you pull in just let them know you're there to rent kayaks, then you can proceed to the left and park in front of the kayaks.
RENTAL RATES
| | | | |
| --- | --- | --- | --- |
|   | 2 Hrs | 4 Hrs** | Full Day** |
| Single Recreational Kayak | $35 | $50 | $65 |
| Double Kayak | $60 | $75 | $90 |
| Mid Size* | $42 | $55 | $70 |
| Full Size* | $50 | $65 | $75 |
| Pedal Kayak* | $60 | $75 | $95 |
| Tandem Pedal Kayak* | $75 | $95 |   |
| Stand Up Paddleboards | $40 | $55 | $75 |
| Hobie Eclipse Pedalboard* | $60 | $75 | $95 |
| SUP Touring Boards* | $50 | $65 | $80 |
*Only available at our Wickford location