Join us as we explore the best of the Balkans with Adriatic Kayak Tours!
Our two-country Best of Balkans Tour brings together the best kayaking in the Adriatic Sea and the best of the region's mountains and rivers. Although Croatia and Montenegro share a common Adriatic coastline, the islands end at Croatia's southern border with Montenegro. Croatia's 4000 km. of spectacular coastline are littered with roughly 1185 islands, a sea kayaker's dream. What tiny Montenegro lacks in Adriatic coast and islands, it makes up for in spectacular mountain scenery, deep river-cut canyons, and the mountain ringed Bay of Kotor.
Agenda:
Trip Length: 8 days*/7 nights, Monday-Monday
Arrival/Departure Point: Dubrovnik
Accommodations: Lopud Island & Dubrovnik: guesthouse rooms with attached bathroom and A/C; Montenegro: Private double or triple log cabin rooms with attached bathroom and outside deck or log cabin bunkhouse bungalows with detached shared bathroom facilities.
Tour Price: US$1429
Includes: 7 nights accommodation, 6 breakfasts*, 6 lunches, & 6 dinners, kayak and rafting gear, guiding, car & ferry transfers and transport
*does not include dinner day 7 & breakfast day 8 in Dubrovnik
Single Supplement: additional US$280
Book online now!
Accommodations:
Tara River Camp Ground: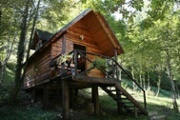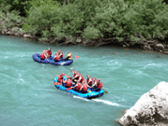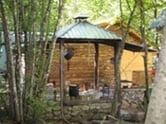 Experience the best of both worlds- Croatia's sea and Montenegro's mountains. Paddle sea kayaks in Croatia's deep blue sea, hopping from island to island. Sleep in a stone guesthouse on a quaint island without roads or cars. Feast on local seafood and rich Mediterranean cuisine. Jump into the warm sea without regard for the water temperature. A leisurely transition to Montenegro includes a visit to the UNESCO walled city of Kotor and a mountain hike for panoramic views of the Bay of Kotor. White water raft the cold, green waters of the spectacular Tara River Canyon, second in scope in the world to the USA's Grand Canyon. Sleep in wooden cabins at a rustic riverside camp. Enjoy hardy mountain meals around a roaring bonfire. Take in the star-studded night sky and crisp alpine air.
Itinerary:
Day 1: Transit day*
Arrive in Dubrovnik /car transfer to AKT office; Explore Old City; 4 PM ferry to Lopud Island; Check-in at the guesthouse; Orientation dinner at our private dining terrace overlooking Lopud Bay
Day 2: 7 – 15 km
Equipment issue/basic paddling and rescue instruction in Lopud Bay; Paddle outer side of Lopud along limestone cliffs to Sunj beach; Relax at Sunj beach, lunch at the beach bar, swim. Optional paddle to St. Andrew Island or hike to the hilltop fortress; Explore Lopud's waterfront promenade, monastery, walking trails
Day 3: 18 – 22km
Morning hike to kayaks at Sunj; Kayak from Sunj beach to Koločep island; Circumnavigation of Koločep, paddle along cliffs and caves; Swim and snorkel to the Blue cave; Climb the cliffs for a picnic lunch
Day 4: 15 km
Morning hike to kayaks at Sunj; Kayak from Sunj to Trsteno on the mainland coast; Visit Trsteno's 15 century arboretum & villas as well as a site for filming of the popular show "Game of Thrones"; Sunset and final dinner on Lopud terrace
Day 5: Transit day
Morning ferry off Lopud; Car transfer to Montenegro; visit UNESCO walled city of Kotor; Hike up for panoramic views of the Bay of Kotor; Continue north to Tara River Canyon and riverside bonfire dinner
Day 6: 18 km white water raft
Raft the final 18 km. stretch of the Tara River before it enter Bosnia, featuring 23 rapids, Bonfire dinner at riverside camp
Day 7: 5 – 10 km hike
Morning hike in Durmitor National Park; Afternoon car transfer to Dubrovnik; Sightseeing and dinner on your own in Old Town
Day 8: Transit day
Transfer to airport for departure flights
*For those of you who wish to have more time to explore Dubrovnik, we would recommend arriving a day early. We would be happy to arrange accommodations.